Ida B. Wells (1862-1931)
Ida B. Wells was a leading journalist and writer who shed light on the condition of African-Americans in the South. Born enslaved, she was raised on Reconstruction-era politics and became a teacher. Her successful 1884 lawsuit against a Memphis train car company that threw her off a train, even though she had a first-class ticket, brought her early recognition. The murder of a friend by a white mob propelled her into journalism, where she documented lynching and other instances of brutal treatment of African-Americans. White suffragists were hostile to the black activist, but Wells was undaunted and campaigned for women's rights. In 1896, she became a co-founder of the National Association of Colored Women to unite the African-American women's clubs working for civil rights, women's suffrage, and against lynching and Jim Crow laws.
Sojourner Truth (1797-1883)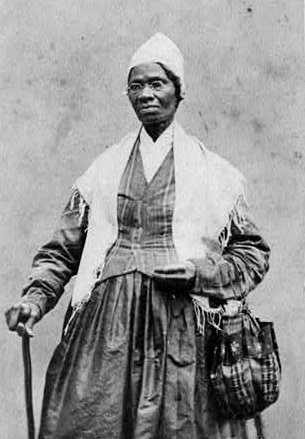 Sojourner Truth was born Isabella Baumfree to enslaved parents James and Elizabeth Baumfree in Esopus, N.Y. When she was 9, Truth (then known as Belle) was sold to a series of owners in upstate New York. In 1815, Belle fell in love with Robert, an enslaved man from a neighboring farm, whose master forbade their relationship, since any children resulting from their union would, by law, belong to Belle's owners. When the couple was discovered together, Robert's owners savagely beat him and dragged him off; Belle never saw Robert again and subsequently gave birth to their daughter. Belle was later forced to marry an enslaved man named Thomas and together they had four children: Peter, James, Elizabeth, and Sophia.
In 1826, Belle, escaped her slave holder with her infant daughter, Sophia. An abolitionist couple, Isaac and Maria Van Wagenen, took mother and daughter in and purchased her services from her slaveholder until New York's emancipation order took effect. During her stay with the Van Wagenens, Belle became a devout Christian, and, in 1829, she moved to New York City, where she worked for Christian evangelist reformer Elijah Pierson.
In 1844, she joined the Methodist church, changed her name to Sojourner Truth, and began speaking around the country in favor of abolition. The same year, she joined the Northampton Association of Education and Industry in Massachusetts, an abolitionist commune established to promote cooperative and productive labor. It was at this organization that she met noted anti-slavery activists William Lloyd Garrison, Frederick Douglass, and David Ruggles. She would go on to clash with Douglass throughout the years, most notably over the question of whether formerly enslaved men should gain the vote before women.
In 1850, Truth narrated her life story, which was recorded and published by Garrison as The Narrative of Sojourner Truth: A Northern Slave. With the proceeds of her memoir, she bought her own home in Northampton, NY. In 1851, she began a lecture tour with renowned British abolitionist George Thompson. For the next two years, Truth spoke before hundreds of audiences on abolition and suffrage for women in general, and black women in particular. In 1856, Truth sold her property in New York and moved to Battle Creek, Michigan to join the Seventh-day Adventist Church and the Progressive Friends, Michigan's emerging abolitionist movement.
During the Civil War, Truth helped recruit black soldiers for the Union Army and was employed by the Freedman's Relief Association to help improve conditions for formerly enslaved people. She also worked at the Freedman's Hospital in Washington, DC. While living there, she helped force the desegregation of city streetcars by taking a conductor, who violently forced her off a streetcar, to court. She won her case. In 1864, she met with President Abraham Lincoln in the White House to state her views. After the war, she tried to secure land grants from the federal government for formerly enslaved Americans and continued to lecture widely on women's rights, prison reform, and capital punishment.
Margaret Hamilton (b. 1936)
Margaret Heafield Hamilton is a computer scientist and systems engineer, who helped develop the onboard flight software for the Apollo space program as part of the MIT Instrumentation Laboratory. She has been credited with coining the term, "software engineering." Hamilton was born in Paoli, Indiana and graduated from Earlham College in 1958 with a bachelor's degree in mathematics. In 1959, she was hired by the MIT meteorology department to write software to predict the weather. Her work contributed to her supervisor Edward Norton Lorenz's publications about chaos theory. Because computer science was not yet an established field, Hamilton had no textbooks to refer to and she had to learn from firsthand experience. In 1961, Hamilton moved on to the Semi-Automatic Ground Environment (SAGE) Project at MIT's Lincoln Laboratory, and her work soon shifted from writing weather prediction programs to working on anti-aircraft defense systems. In 1963, she switched to MIT's Draper Laboratory to lead the team that would develop software for the Apollo Space Program and Skylab. Her ultra-reliable software design for the Apollo XI lunar module is credited with correcting an error that came close to aborting the moon landing. In 1976, Hamilton became co-founder and CEO of Higher Order Software, a company whose software was used in government projects, including many by the military. In 1986, she became founder and CEO of Hamilton Technologies, which specialized in Universal Systems Language, systems design, and software development. She is the recipient of numerous awards, including the Presidential Medal of Freedom from President Barack Obama, the Augusta Ada Lovelace Award by the Association for Women in Computing, and the NASA Exceptional Space Act Award for her scientific and technical contributions.
Katherine Johnson (b. 1918)
Katherine Coleman Goble Johnson is a mathematician, whose calculations of orbital mechanics at NASA were instrumental in the success of the manned spaceflight program. She was also a pioneer in the application of computers in space flight. Her work added to the success of Project Mercury, the Apollo flights to the moon, and the Space Shuttle program. She also worked on the planned mission to Mars. Born in White Sulphur Springs, WV, Johnson displayed signs of an extraordinary intellect early in life. When she was 10 years old, she attended West Virginia State College and graduated summa cum laude in 1937 with degrees in mathematics and French. She began teaching public school at the age of 18 and briefly attended West Virginia University to seek a graduate degree, becoming the first African-American woman to attend the school's graduate program. She left the program after she married and began to have a family. In 1952, she began working for the National Advisory Committee for Aeronautics (NACA) as a "computer" in the Guidance and Navigation Department. NACA required African-American women to work, eat, and use restrooms apart from their white colleagues. Johnson began to make incursions into the all-male enclave of the Flight Research Division when a temporary assignment became permanent thanks to her talent in analytic geometry. NASA desegregated the organization in 1958, but sexism was still pervasive. It was that year that Johnson became an aerospace technologist at the Spacecraft Controls Branch and started to calculate trajectories, launch windows, and navigation charts for space flights. Despite the sexism at the time, Johnson's work was highly regarded. So much so, that astronaut John Glenn insisted she confirm computer calculations by hand before his historic orbital mission. She is the co-author of 26 scientific papers, recipient of the Presidential Medal of Freedom from President Barack Obama, and had the Katherine G. Johnson Computational Research Facility at the Langley Research Center in Hampton, Va., named in her honor. The 2016 movie, Hidden Figures, was based on a book about her, and other African-American women STEM pioneers, at NASA.
Joann Morgan (b. 1940)
Joann Hardin Morgan is an aerospace engineer who was the first female engineer at the NASA Kennedy Space Center, where she was also the first woman to become a senior executive. Morgan, who spent 40 years working in manned spaceflight programs, is famous for being the only woman in the (rocket) firing room during the launch of Apollo XI—the first mission to put a man on the moon. Born in Huntsville, Ala. in 1940, Morgan worked during the summers at Cape Canaveral, gaining experience in rocket launch computer systems, while she was attending the University of Florida. In 1963, she earned a bachelor's degree in mathematics and, in 1977, she received a master of science in management from Stanford University. She is credited with breaking many glass ceilings in the space administration. She faced numerous obstacles due to her gender, and although she had already been promoted to senior engineer, her boss at NASA had to go all the way to the head of the Kennedy Space Center to get permission for her to be present during the launch of the Apollo XI mission. Morgan has received numerous honors, including citations from President Bill Clinton, induction into the Florida Women's Hall of Fame, medals from the Society of Women Engineers and the American Society of Mechanical Engineers, and the Debus Award from the National Space Club.
Fannie Lou Hamer (1917-1977)
Fannie Lou Townsend Hamer was one of the most powerful voices of the civil, women's, and voting rights movements and a fierce champion for economic opportunities for African-Americans. She was born the youngest of 20 children to Mississippi sharecroppers, Ella and James Lee Townsend and survived polio as a child. Her only education was in a one-room schoolhouse, but she excelled at reading and spelling. Forced to leave school at the age of 12 to help her parents, she continued learning through Bible study at her church. Her knowledge of biblical liberation would become a great motivator in the civil rights struggle. In 1945, she married Perry Hamer, a tractor driver on the plantation where they both worked at the time. Her activism began by trying to register to vote after being inspired by the work of the Student Nonviolent Coordinating Committee (SNCC). Her efforts at gaining access to the franchise provoked attempts on her life by the Ku Klux Klan. She eventually registered to vote and began to volunteer for SNCC; In 1963, this led to becoming a field secretary for the organization. During a trip that year to the Southern Christian Leadership Conference with fellow organizers, she was arrested at a rest stop in Greenwood, Mississippi by police officers and was brutally beaten at the county jail. The abuse left her physically and psychologically impaired. These challenges didn't stop her from organizing Mississippi's Freedom Summer, a massive volunteer campaign to register African-Americans to vote, and other voting rights activities in the state. In 1964, she co-founded the Mississippi Freedom Democratic Party (MFDP) and traveled to the Democratic National Convention as an official delegate. It took until 1968 for the entire MFDP to be seated at a national convention, and, in 1972, Hamer was elected a national party delegate. In 1964, she ran unsuccessfully for Congress and worked on Head Start and the Rev. Dr. Martin Luther King Jr.'s Poor People's Campaign. In 1969, she founded the Freedom Farm Cooperative to redistribute economic power and improve the standing of African-Americans. She created numerous programs that offered decent housing, nutrition, and other resources for poor farmers. She also co-founded the National Women's Political Caucus to help women get elected to government office. In the early 70s, she was celebrated with honorary doctorates from Shaw University, Columbia College Chicago, and Howard University. She died at the age of 59 from complications of hypertension and breast cancer. At her funeral, U.S. Ambassador to the United Nations Andrew Young said, "None of us would be where we are now if she had not been there then." She was posthumously inducted into the National Women's Hall of Fame in 1993.